Are the social challenges people face making it harder for you to achieve improved outcomes with the people your service supports?
Are the people you're trying to reach not coming through your service's doors?
Join Health Justice Australia in nipaluna (Hobart), for an introductory workshop into how health justice partnership might provide a path through these challenges.
When: Thu 19th Oct 2023, 9:00 am – 4:30 pm AEDT
Where: Vibe Hotel Hobart 36 Argyle St, Hobart TAS 7000, Australia
---
Practitioners working in health, legal, community or social services are acutely aware of the complex problems people experience in their lives. Globally, we now know that addressing this complexity will require service systems to collaborate.
Health justice partnership is an approach that does just that.
This quiet revolution in service delivery connects health, social and legal assistance in the places where people are more likely to turn to for help, enabling service systems to better meet the complex and compounding issues facing many of the people they serve.
This event draws on Health Justice Australia's years of experience supporting the development and maintenance of health justice partnerships across Australia to provide attendees with a comprehensive introduction to all aspects of health justice partnership.
By attending this workshop you'll gain an understanding of:
the rationale for health justice partnership,
the key features and characteristics of a health justice partnership approach, and
how to build and maintain an effective health justice partnership that matches your unique context and needs.
Whether you are working in, or interested in working in health justice partnership, this workshop will increase your knowledge and develop your practice in building and maintaining this way of working.
Meet the facilitator: Cathy Bucolo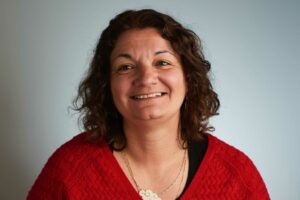 As Health Justice Australia's Practice Development Lead, Cathy Bucolo supports the work of health justice practitioners across the country through partnership coaching and convening of the National HJP Practitioner Network. Cathy lives on Wurundjeri Country in Naarm (Melbourne), Victoria. She is a trained speech pathologist and has worked at the intersection of health, disability and justice for 27 years in a variety of roles beyond speech pathology. Cathy is most happy when building practitioner capability in person-led, rights-based practice, as well as taking a collaborative hypothesis testing approach to solving client/patient and partnership problems.