Since 2012 there has been a significant increase in health justice partnerships across the country, although some legal services have been working in health settings for longer.
The services listed here support lawyers and health professionals working together in a range of ways, from outreach or co-location to wholly integrated partnerships.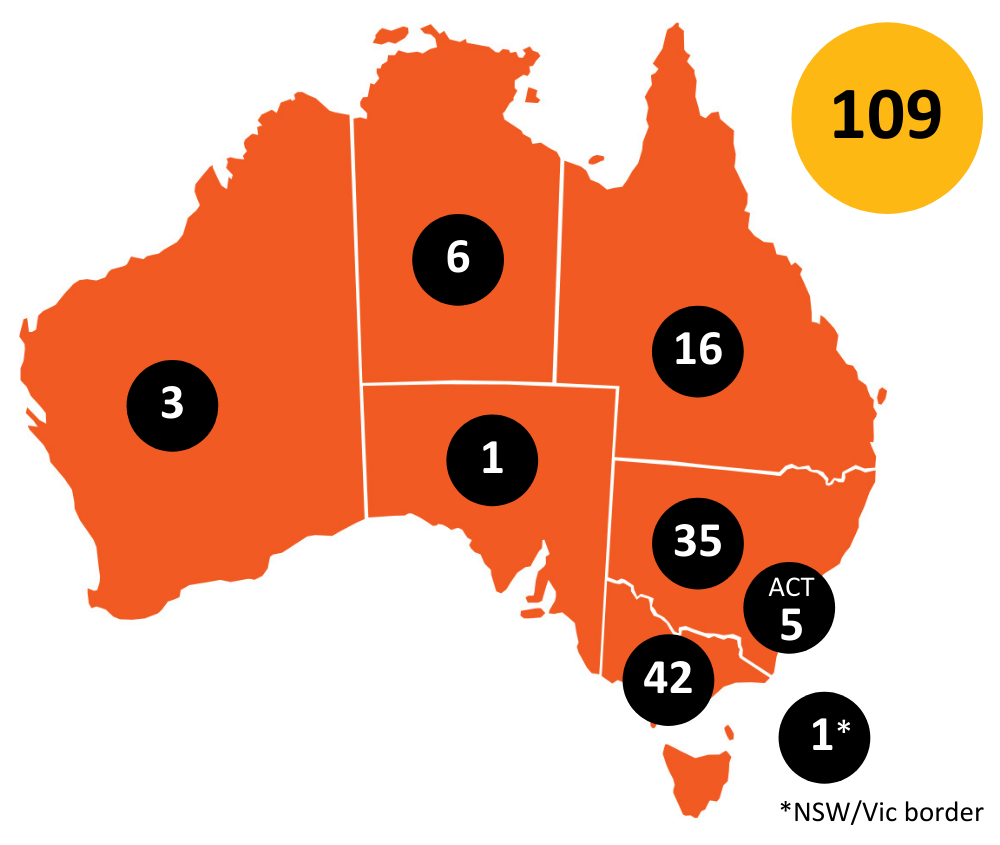 The above map shows the distribution of health justice services at November 2022. For more information, see Health justice landscape: November 2022 snapshot.
---
Australian Capital Territory
Calvary Public Hospital Bruce HJP (partnership between Women's Legal Centre ACT & Region and Calvary Public Hospital Bruce)
Gungahlin Child and Family Centre HJP (partnership between Women's Legal Centre ACT & Region and Gungahlin Child and Family Centre)
Tuggeranong Child and Family Centre Legal Outreach Service (Outreach service offered by Women's Legal Centre ACT & Region and Tuggeranong Child and Family Centre)
West Belconnen Child and Family Centre Legal Outreach Service (Outreach service offered by Women's Legal Centre ACT & Region and West Belconnen Child and Family Centre)
---
New South Wales
HealthOne, Sutherland Hospital (partnership between Legal Aid NSW and Sutherland Hospital)
Law for Health, a partnership between Kirketon Road Centre and Inner City Legal Centre
Macarthur Legal Centre's Health Justice Partnership with Campbelltown Hospital
Marrickville Legal Centre's Health Justice Partnership with Sydney Local Health District (Canterbury Drug Health Services)
Redfern Legal Centre and Sydney Local Health District Health Justice Partnership at Royal Prince Alfred Hospital and Sydney Dental Hospital
Redlink, Waterloo (partnership between Department of Families and Community Services & Redfern Legal Centre)
St Vincent's Health Network Sydney – Seniors Legal Service (partnership between Justice Connect, St Vincent's Hospital and St Joseph's Hospital focusing on elder abuse)
Tharawal Legal Advice Service (partnership between Macarthur Legal Centre and Tharawal Aboriginal Corporation and Medical Services)
The Hub, Miller (partnership between Legal Aid NSW and South West Sydney Community Legal Centre)
War Memorial Hospital, Waverley – Seniors Legal Service (partnership between Justice Connect and Uniting War Memorial Hospital focusing on elder abuse)
Health Justice Partnership between Kingsford Legal Centre, Prince of Wales Hospital and Eastern Suburbs Mental Health Service
---
Northern Territory
Women'sHeLP – a health and legal partnership for Central Australia and the Barkly (partnership between Central Australian Women's Legal Service and Central Australian Health Service)
The Katherine Health Justice Partnership – a partnership between the NT Legal Aid Commission and the Katherine Individual Support Program, a collaboration of health and social support services, coordinated by Wurli Wurlinjang Health Service
---
Queensland
Caboolture Hospital HJP (partnership between Women's Legal Service Queensland and Metro North Hospital and Health Service), including Kilcoy Hospital and Micah Projects – Young Mothers for Young Women, Caboolture South
Gold Coast Hospital HJP (partnership between Women's Legal Service Queensland and the Gold Coast Hospital and Health Service)
Health Advocacy Legal Clinic, Mater Hospital, Brisbane (partnership between LawRight and Mater Hospital)
Logan Hospital HJP (partnership between Women's Legal Service Queensland and Metro South Hospital and Health Service)
Princess Alexandra & Queen Elizabeth II Hospitals HJP (partnership between Women's Legal Service Queensland and Metro South Hospital and Health Service)
Redcliffe Hospital HJP (partnership between Women's Legal Service Queensland and Metro North Hospital and Health Service)
Redland Hospital HJP (partnership between Women's Legal Service Queensland and Metro South Hospital and Health Service)
Royal Brisbane and Women's Hospital HJP (partnership between Women's Legal Service Queensland and Metro North Hospital and Health Service)
Queen Elizabeth II Hospital HJP (partnership between Women's Legal Service Queensland and Metro South Hospital and Health Service)
The Institute for Urban Indigenous Health Legal Service
OPALS HJP (partnership between Caxton Legal Centre and Metro South Health)
---
South Australia
Safe and Well Kids HJP (a partnership between Legal Services Commission of South Australia, South Australia Department of Human Services, Women's Safety Services South Australia and Relationships Australia South Australia)
South Australia Northern Suburbs HJP (partnership between Legal Services Commission of South Australia, Lyell McEwin Health Service and Northern Domestic Violence Service)
---
Victoria
Acting on the Warning Signs (partnership between the Royal Women's Hospital and Inner Melbourne Community Legal)
Bendigo Family Violence Justice program (between Loddon Campaspe Community Legal Centre and the Centre for Non Violence)
Bolton Clarke Homeless Persons Project and the Mental Health Legal Centre HJP
Central Highlands Health Justice Partnership (partnership between Ballarat Community Health, Federation University and Youthlaw)
Colac Area Health Legal Outreach Service
Djerriwarrh Health Services, Melton (partnership between Brimbank Melton Community Legal Centre and Djerriwarrh Health Services)
Effective Recovery Journeys (project of the Mental Health Legal Centre run with mental health services in Victoria)
Family Violence and Family Law Health Justice Partnership between The Orange Door, North Eastern Melbourne Area and Fitzroy Legal Service
Family Violence and Family Law Health Justice Partnership between Queerspace at Drummond Street Services and Fitzroy Legal Service
First Step Legal embedded and co-located within First Step an addiction and mental health services clinic
First Step Legal Health Justice Partnership with Star Health's Family Violence Program
First Step Legal Health Justice Partnership with the St Kilda Rd Clinic, Alfred Health's community mental health service
First Step Legal Health Justice Partnership with the Windana Therapeutic Community
Fitzroy Legal Service Drug Outreach Program at Inner Space, cohealth
Fitzroy Legal Service Drug Outreach Program with the Living Room, Youth Projects
Fitzroy Legal Service Drug Outreach Program with Odyssey House
Fitzroy Legal Service Drug Outreach Program with Uniting ReGen
Fitzroy Legal Service Drug Outreach Program with YSAS
HALO, Holistic Assistance and Legal Outreach (partnership between Hume Riverina Community Legal Services and Gateway Health)
Health Justice Partnership between North Richmond Community Health Centre and Fitzroy Legal Service
Health Justice Partnership between the Peter MacCallum Cancer Centre and Inner Melbourne Community Legal Centre
Health Justice Partnership between a hospital and WEstjustice
HELP (Health Enhancing Legal Pathways) – Barwon Health Justice Partnership. Partnership between Barwon Community Legal Service and Barwon Health
Integrated Services for Survivor Advocacy (ISSA), a partnership between SECASA and South-East Monash Legal Service
Clean Slates (partnership Latrobe Regional Hospital and Gippsland Community Legal Service)
Mabels (partnership between Eastern Community Legal Centre, Boorndawan Willam Aboriginal Healing Service and two Victorian local government councils)
Maryborough Therapeutic Justice Partnership (between Loddon Campaspe Community Legal Centre and Maryborough District Health Service)
Melbourne Legal Care (partnership between the Royal Melbourne Hospital and Inner Melbourne Community Legal)
Mortgage Wellbeing Service (partnership between Westjustice, Djerriwarrh Health Services and Wyndham H3 Alliance)
Older Persons' Legal Service at cohealth, North West Melbourne (partnership between cohealth and Justice Connect, Seniors' Law)
Rumbalara Therapeutic Justice Practice – a partnership between the Goulburn Valley Community Legal Centre and Rumbalara Aboriginal Cooperative Limited
St Vincent's Hospital Melbourne Health Independence Program HJP (partnership with Fitzroy Legal Service)
St Vincent's Hospital Melbourne HJP (partnership with Justice Connect, Seniors' Law)
Sunraysia Community Health Services and Victoria Legal Aid HJP
Sunshine Hospital Family Violence Project, Sunshine (partnership between Brimbank Melton Community Legal Centre and Western Hospital)
The Alfred Hospital HeLP Patient Legal Clinic, Melbourne (partnership between Alfred Health and Maurice Blackburn lawyers)
WELS – Women Engaging and Living Safely (partnership between Eastern Health and Eastern Community Legal Centre)
West Heidelberg Community Legal at Banyule Community Health
Invisible Hurdles (partnership between Hume Riverina Community Legal Service, Albury-Wodonga Aboriginal Health Service, the Wodonga Flexible Learning Centre and North East Support and Action for Youth, Wangaratta)
Together from the Start (partnership between Women's Legal Service Victoria and health service)
ELSA HJP (partnership between Eastern Community Legal Centre, Eastern Health and Oonah Belonging Place)
---
Western Australia
ISHAR (partnership with Northern Suburbs Community Legal Centre and Legal Aid WA operating as WREN)
Joondalup Health Campus (partnership with Northern Suburbs Community Legal Centre and Legal Aid WA operating as WREN)
Legal Aid WA/Next Step East Perth Legal Clinic (partnership between Legal Aid WA and Next Step Drug & Alcohol Service)