How we did it is just as important for the campaign ahead.
I'll never forget this Welcome to Country. Outdoors, on a crisp, cool morning, on a field surrounded by mountains. The Traditional Owner of the land we were on called forward 10 people from the hundreds gathered before him and stretched the volunteers out forming a human chain.
Using each person in the chain as a marker of 10,000 years, he began to mark the key dates for archaeological findings that reflected his people's continuing connection to Country. In his words, he was giving his non-Indigenous audience 'scientific proof': translating into western knowledge what he and his people already knew. At the very end of the chain, he asked a woman to hold out her arm, then her little finger. He put a gumleaf on her fingernail. That gumleaf represented the 235 years since colonisation of his lands; a tiny fraction of the time his people had been its custodians.
His words have been ringing in my ears ever since. I can't stop thinking about his message and about how much work there is to do to repair the damage caused by colonisation and its impacts over just two and a bit centuries, compared to the care and custodianship of these lands over millennia by Aboriginal and Torres Strait Islander people before invasion.
One thing I am clear about: that work includes constitutional recognition of a voice in decision-making for the First Nations of this land. Health Justice Australia is affirming our commitment to self-determination by joining the campaign for constitutional recognition. We say 'yes' to the voice.
Equally, we support the continuing calls for treaty and truth-telling that are being led by Aboriginal and Torres Strait Islander people across the country.
Health Justice Australia pledges our support in response to the generous call of the Uluru Statement from the Heart. We can contribute our organisational power and privilege, alongside the many other declarations of support, for voice, treaty and truth.
This position is not held lightly. Even though it is an organisational position and not binding on our staff or board members individually, we have taken time and pursued a process to arrive at them. And we purposefully made space for difference. Sharing that process with you is important because it reflects the work that we all need to do – individually, collectively and as a nation – if we want to see this momentous reform succeed.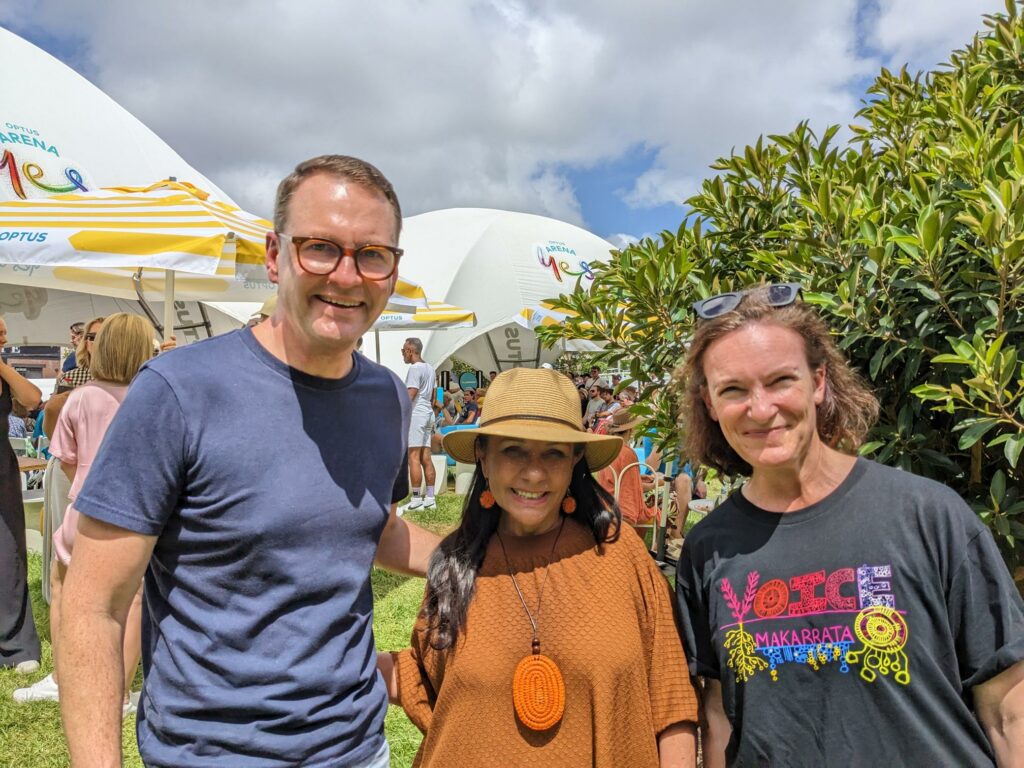 ---
How did we get there?
Our starting point was Health Justice Australia's commitment to self-determination for Aboriginal and Torres Strait Islander people. This support was the first ever policy adopted by our board several years back, and is directly linked to our charitable purpose.
It reflects the inextricable links between the continuing impacts of colonisation; the multiple, intersecting health and legal needs of Aboriginal and Torres Strait Islander people in this country; and the ways that health, legal and other service systems continue to hold First Nations people in disadvantage.
As part of our commitment to self-determination, we actively seek to listen and learn from the many Aboriginal and Torres Strait Islander people, communities and community controlled organisations that we work with. On constitutional recognition, we have been hearing a range of views over the months since the reform was placed firmly on the agenda by the incoming Labor government. That there were also different views in our team first became clear through informal chats over lunch; then in debriefs from events we had participated in where constitutional recognition had been discussed.
As the campaign for 'yes' got underway, our staff were invited to participate in the decision-making process about an organisational position. I was clear about my personal view in support of 'yes' but equally saw the need to hear and understand the different opinions across our team, including people who held a different view, as well as people who felt undecided. My ideal outcome was a consensus position of support for the campaign across our team. If that was not possible, we needed at least a process where different views could be expressed.
Hearing those views respectfully was important, as was understanding what informed them. In some cases it was what people were reading and seeing online and in community conversations around them. Other views were informed by professional networks or by the people and communities we work with.
There are many in our network who support a voice enshrined in the constitution. There are other views too. Some in our network have advocated for different priorities, such as treaty or truth-telling to come before voice. Some have identified their sense of exclusion from the process to develop the Uluru Statement. Others have rejected constitutional recognition as an inherently colonialist symbol.
At HJA we have taken time to share, reflect on and understand these different views. We have also examined our organisational role as a charity, as part of civil society, and as a national body whose purpose is to improve the lives of people held in disadvantage by intersecting health and legal need.
Our process was not laboured, but it was important. A position paper provided the basis for formal team discussion and input. A meeting was convened to discuss it. The discussion was recorded for those absent and further time was given to review the recording and the position paper, enabling entire team input before it went to our board – who also considered the different views across our staff and network, and then supported the position wholeheartedly.
Our position, clear in its support for the 'yes' campaign, also recognises the continuing calls for treaty and for truth-telling. Over the coming months, as we actively engage in support of 'yes' to constitutional recognition, we will also amplify the calls for treaty and for truth-telling.
This process also lays the foundations for us to look at what other work we need to do, as part of our commitment to self-determination, and as an organisation working at the intersections of health, legal and other systems. For example, what is our role in telling truths about the child protection practices that see Aboriginal children disproportionately removed from their family and kin? Or the over-representation of Aboriginal and Torres Strait Islander people in prisons? Or the institutional racism that sees Indigenous people repeatedly misdiagnosed and denied adequate care and treatment in our health system?
The voice without treaty and truth-telling can't fix these problems alone, but no solution can be effective if it doesn't begin with, or excludes, the voice of Aboriginal and Torres Strait Islander people.